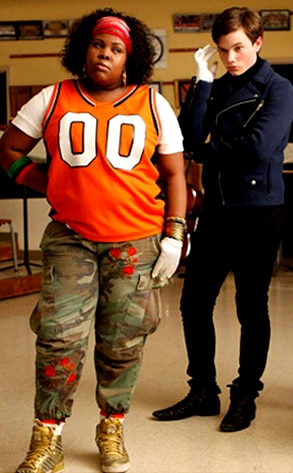 To be upfront about this post, it is a response to
Bryan Safi
's video
That's Gay: Coming Out
. Upon a cursory viewing of the video, one does get a sense of how coming out on popular shows has been constructed in a way to amp up the drama. On this point, I agree. In his comical framing and colorful presentation, however, I question if he does just as much of a disservice to coming out, or rather the choice/experience of coming out, by his depiction of the examples he uses. I will only say two brief points that I believe are overlooked in his "analysis." And it must be noted that both points grapple with the same question: what about the nonmoments?
To begin, I quote one contributor over at
Womanist Musings
, the blog where I found this clip. She states that
Once again, [Safi] is so bang on correct. The way that coming out is constructed in the media is absolutely ridiculous. I mean seriously…they make it seem like someone is admitting to murder. Heaven forbid the media just have GLBT people going on with their lives just like everyone else. Oh no, we cannot possible portray being gay or lesbian as anything other than an oddity.
However, I wonder if the contributor to Womanist Musing listened/watched the
entire
clip. Safi mentions that there has been a proliferation of "outings," both voluntary and involuntary, in recent history in the media (in this case speaking only to TV sitcoms). He states that "coming out" has been depicted in a number of ways and through various avenues and the like. In fact he outlines, again in a colorful manner, some himself. The question I have is, does this not speak to reality more than fiction? Is it a sign of times getting better and not worse? Though Safi doesn't include clips from
Grey's Anatomy
, for instance, there was an occasion with
Cali
where the more fanatical, hysterical "outing" didn't happen. To use one example Safi uses himself,
Glee
, wasn't
Kurt
's coming out—both to
Mercedes
and his father—one of the modal occurrences? What about
Calvin
in
Greek
:
Ashleigh
thinking Calvin is hitting on her and she makes a move (a kiss) only to be stopped with the news that he is gay? I am not saying that this is in fact how everyone who is outwardly gay came out, but Safi's portrayal, at least to me, sullies and minimizes those experiences.
Though I agree that "coming out" has been incorporated into scripts to draw in the crowds, I have to ask about the assumption that we are making about the entire cast of characters being heterosexual save for those who will be somehow marked as gay. I know that some will say this is a statistical fact; there are more heterosexual individuals than homosexual. This may very well be the case but we still see instances in popular sitcomes where we are left in surprise when we find out someone is gay and it is
not
an instance of the "Flaming Kamikaze" or the "Kanye West Swift Kick." I think about Grant from
Greek
, a show that Safi himself uses twice as evidence for his producers using coming out as an attraction to lure viewers in. No one on the show knew that
Grant
, Calvin's new boyfriend, was gay until he and Calvin started hooking up. It seems to me that from the position Safi puts himself in is one that assumes everyone is straight until proven otherwise. That, to me, is problematic in and of itself though I do understand that given the history of LGBQTI individuals in the media, it is a reasonable assumption.
When speaking of such an important life event in people's lives I think we have to be a little smarter in our analysis even when trying to be snarky and comical. Sadly, Safi sensationalizes the outings in the same manner he vilifies the media for doing. Is that the pot calling the kettle black? Instead of taking a more exhaustive, panoramic view of the presence of LGBQTI individuals on television shows and their "outings"
and
lack thereof, Safi lets us all down, gay and straight alike.